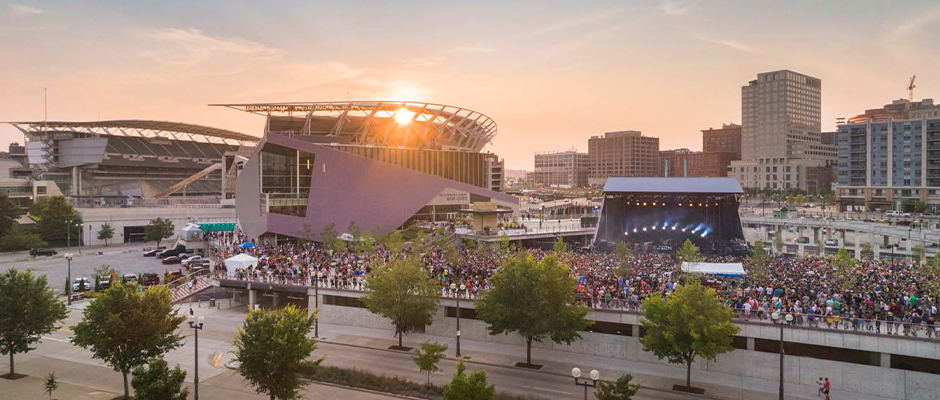 Latest News
The Academy of Country Music® announced the nominations for the 55th ACADEMY OF COUNTRY MUSIC AWARDS™ last week. Among the nominees is Rose Music Center for Outdoor Venue of The Year. Rose Music Center is located in Huber Heights, Ohio.

The Stuart & Mimi Rose Music Center at The Heights opened in May of 2015. The venue is owned by the City of Huber Heights and operated by Music & Event Management, Inc. Last year's season included concerts by country artists Sugarland, Lady Antebellum, Travis Tritt, Charlie Daniels Band, Brett Eldredge and Vince Gill.

The ACM Industry Awards are voted on by...

Music & Event Management, Inc. (MEMI) announced today the new music venue at The Banks in Cincinnati will be called The Andrew J Brady ICON Music Center. Unique in design and capacity, the $27 million state-of-the-art facility is set to open in Fall of 2020 and will be unparalleled to any other music venue in the region.

After months of negotiations between Cincinnati City Council and the Board of Hamilton County Commissioners, the $27 million music venue set to go at the Banks has received all of the approvals needed from Cincinnati City Council to make the project a reality.

MEMI is thrilled to welcome Iron & Wine with Orchestra to the Taft Theatre! On March 22, Iron & Wine and conductor/arranger David Campbell head to Cincinnati for the first of only three total nationwide dates on this special tour celebrating Iron & Wine's breakthrough record "Our Endless Numbered Days."

The Joint Banks Steering Committee announced today their recommendation for Music & Event Management, Inc. (MEMI) together with the Cincinnati Symphony Orchestra (CSO) to build a new music venue at The Banks. A joint statement released today by MEMI and the CSO read, "We are grateful for the recommendation of the Joint Banks Steering Committee for MEMI to lead the construction and operation of a new performance venue at The Banks following a competitive proposal submission and review process. With that recommendation, we look forward to working with the Joint Banks Steering Committee, the City...