Venues
Want to see a show?! Come on over to Ohio and we'll make it happen! MEMI manages six venues on four properties in Cincinnati and Huber Heights, OH. Get to know them below.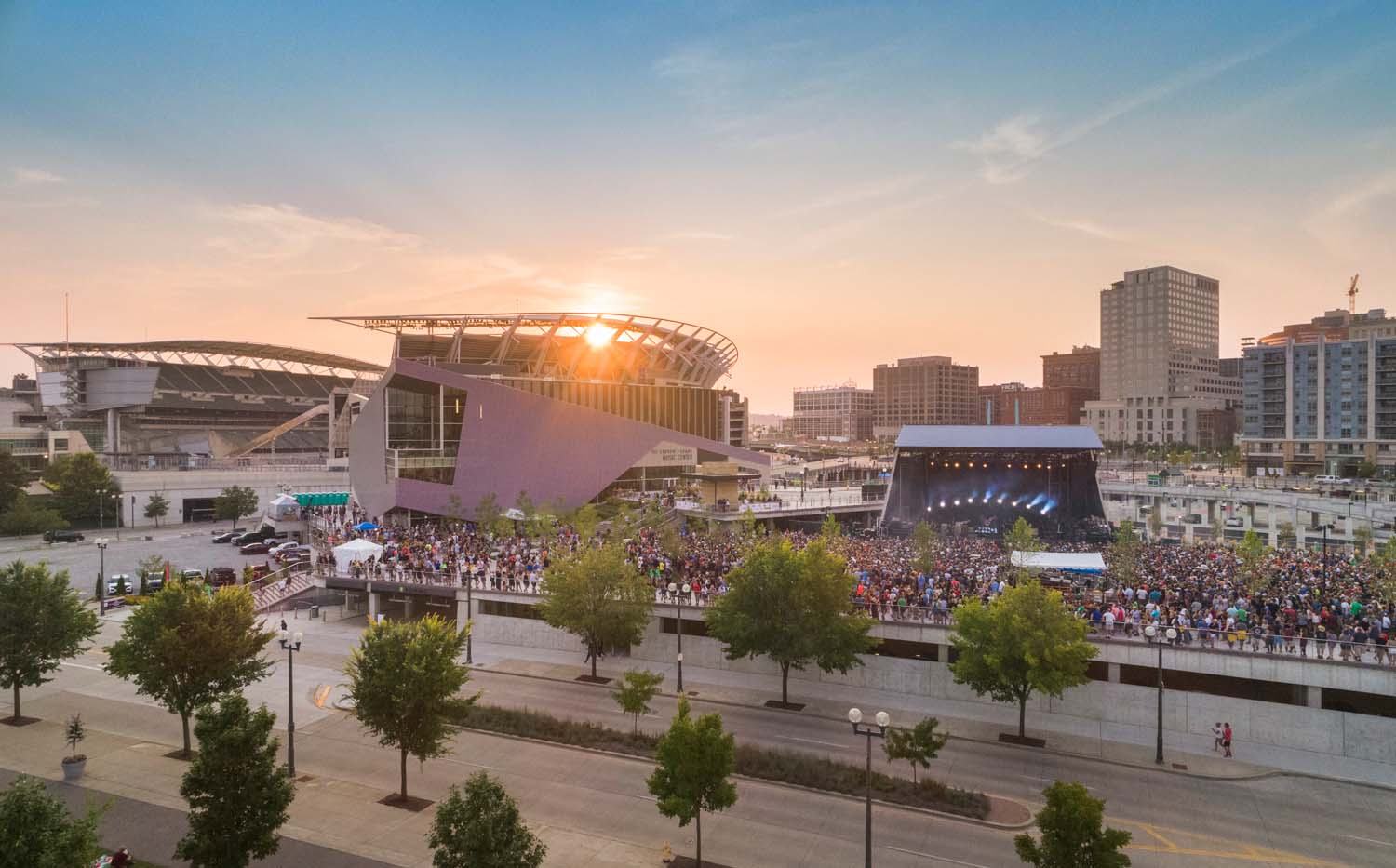 The Andrew J Brady Music Center
MEMI is excited to introduce The Andrew J Brady Music Center – A state-of-the-art music venue that will feature a diverse mix of up-and-coming artists as well as longtime favorites. The year-round facility will host up to 170 events annually and will include The ICON Festival Stage at Smale Park for outdoor concerts and festivals. The Andrew J Brady Music Center's proximity to The Banks restaurants, retail and hotels will make attending a concert a park-once experience.
25 Race Street, Cincinnati, OH 45202
Visit Website

Riverbend Music Center
Everyone from Ed Sheeran and Chris Stapleton, to Drake and Van Halen, has taken the stage of Riverbend Music Center, nestled along the banks of the Ohio River in Cincinnati, Ohio. For over 35 years, Riverbend Music Center has provided the Cincinnati area with the best in entertainment experiences with approximately 35 major contemporary music events each season, hosting over 500,000 music-lovers annually.
6295 Kellogg Avenue, Cincinnati, OH 45230
Visit Website

PNC Pavilion
Located on the same campus as the Riverbend Music Center, PNC Pavilion opened in 2008 and provides top tier entertainers in an exceptional an intimate setting with great amenities and flexible production potential. PNC Pavilion hosts approximately 25 major contemporary music events and hosts over 75,000 concert-goers each season.
6295 Kellogg Avenue, Cincinnati, OH 45230
Visit Website

Stuart and Mimi Rose Music Center at the Heights
This state-of-the art amphitheater offers a completely covered and intimate fixed seating area, excellent artist amenities, and an exceptional entertainment experience in the Dayton, Ohio market. Having opened its doors in 2015 with 29 events, the Rose Music Center has seen increases in the number of shows and concert-goers in attendance year over year.
6800 Executive Boulevard, Huber Heights, OH 45424
Visit Website

Taft Theatre
Located in the heart of downtown Cincinnati, the Taft Theatre, which opened in 1928, is a gorgeous display of the neo-classical/art deco architecture that prevailed during the time period and has become a premier entertainment destination. The 2011 $3.2 million renovation integrated 21st century comfort while maintaining the historic ambience and character of this gem of Cincinnati. MEMI acquired a long-term management contract in 2010 and has since tripled the show count and attendance in the performance spaces, hosting 220,000 music-lovers each year. For rental information click here.
317 East Fifth Street, Cincinnati, OH 45202
Visit Website

Taft Ballroom
The Ballroom is a 500-capacity performance space opened in March 2012 and hosts all types of music and comedy. We pride ourselves in offering the highest quality eclectic programming, superb acoustics, and first class amenities which create an excellent fan experience in The Ballroom. For rental information click here.
317 East Fifth Street, Cincinnati, OH 45202
Visit Website